Archive for the 'living in the South' Category
I really love the brands Three Dots and Bailey 44. Both make dresses can be thrown on with flip flops for day and a high heeled sandal at night. They have a touch of glam while still being functional and lightweight. Plus, the quality is a bit better than other casual dress brands. These are elements I look for in a new dress purchase. I think its even more important in South where the weather tends to be warmer and most of the year and patios are a way of life at home and when out with friends.
Here are just a few I've seen from Three Dots and Bailey 44 I like for Spring. Functional, no crazy prints and work for multiple events.
My future MIL called me the other day and asked if I wanted to go spend the day at the cash and carry show at the America's Mart downtown. I was first like, um that would be fiscally irresponsible. And then I changed my mind to it would fiscally irresponsible re: Christmas presents not to go. So I took the day off and headed downtown at yesterday morning.
I was rather excited about going because it had been approximately ten years since I had been in the Mart. I've never got to make any purchases in the past. My experiences were working in a showroom during an off-time doing visuals or attending regional meetings for a former employer. Or when I used to travel for work a lot I would get stuck on MARTA with show attendees crushing my ribs on the way to their respective hotels. But I digress.
It was rather crazy. I looked at a lot of the name tags to see where people were coming from. Lots of Middle Georgia or just over the line in Alabama or South Carolina. My future MIL has been going to these events for thirty years because of her different side businesses and originally a large store she used to own in Buford.
I was able to get some Christmas gifts for family members and for B's daughters. I was looking for bang for my buck type items. I spent just under $150 on some really great deals that I'm quite pleased about and can't wait to go to Hobby Lobby and pick out my gift wrap color scheme for the year.
But I wanted to show you some of the madness through grainy, wobbly iPhone pics. There was plenty of junk that I didn't partake in. No need to buy crap.
We shopped for other people till we just about dropped. There were quite a few food vendors with dip mixes, jellies, bbq sauces, etc. to buy. I think I tasted everything there was to taste. I thought this was reasonable since I hadn't eaten any breakfast.
We did walk up a couple of blocks to Rays in the City to meet B for lunch. Then this happened.
After lunch we went back to the Mart, got of our things out of holding and into my car. Then we went to some other floors that had a few showrooms open. The highlight was going in the vendor who sells Elizabeth McKay. It was all I could do to not buy ALL THE SAMPLES. Truly, heart breaking to leaving with nothing. But I got to see the summer things and died over all of it.
MIL goes to all the shows so its now on my calendar to spend a couple of days downtown with her during the January show. I was spinning my wheels yesterday going is there anything I can sell in this economy because OMG, THIS IS SO FREAKING FUN!!!!
But you know what I won't be selling? These.
I need a new coat. My coat is old and a bit to big. I got SEVEN years a go. Wow. Seems a long time in the world of fast fashion. It's black, has animal print lining and was bought at Banana Republic as a Christmas present.I'm not one to really look around for something I barely need down here in Atlanta, but when I need it, I really need it. I've got a knee length puffy coat from North Face but my fiance doesn't want me wearing that to work or when I visit clients. So I think I'm just going to suck it up and get this coat from J.Crew.
It's the Lady Day coat. In black. Boring. Would rather in the pink option.
But that's the rub, right? Must. Get. Black. Hmmpf.
Obviously, I'd rather have something amazing like this Burberry option. But that's kind of silly. And out of the price range.
On another note, what's up with retail websites not letting you copy their pics of clothing items anymore? Gah! It's been a long time since I've blogged regularly. Nordstrom and J.Crew are cramping my style as well!
Blair agrees.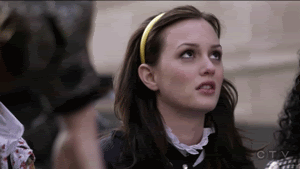 Earlier this month I went up to Nashville for the Steeplechase. I stayed with BFF's family off of Old Hickory Blvd. which made access very easy. We actually walked down the center of the street between the cars to get there.
We found it absolutely hilarious how all the girls had still shown up in white, Lilly P., or sandals. We showed up Steeplechase appropriate, but in minidresses (no muddy butts from flying mud) and Hunter wellies. Those came in handy. Especially when everyone else was walking into the disgusting port-o-potties in barefeet and we were, oh, NOT CATCHING DISEASES.
I do think it is a sign of age and to much partying when you think far enough in advance to bring your own toilet paper. I was not a girl scout in my former life either.
After the Steeplechase I played a game of "Please deliver my pizza/Just sneak by the police not allowing access/I am starving" with Papa John's. I eventually won that battle.
Yesterday, I went to look at shotguns with my Mom for sporting clay shooting. Guns are expensive. Real expensive. Depends on how much hand engraving, hand built, etc. you want.
I am wandering around this store looking at all the heads mounted on the walls and pictures from people's safaris that had been sent in. Feeling somewhat "Out of Africa". I turn around and the owner is zoning in on my Mom. I watched him check out that she does not wear a wedding ring. I watched him check her out.
And then when she tells him the story about how my Dad sold all of my great-grandfather's guns years ago he says the most special line ever. "And then you got rid of him too."
Now I know he only said this because she was not wearing a ring. But I got to jump in and flatly say, "No, he died."
That will always make people take a step back.
I have been roaming around Atlanta at different bars and a party. All night. Sober.
Party hopping sober really puts things in a different perspective.
One example. My friend is a DJ and works at a bar in the Highlands on Friday and Saturday nights on top of his Mon-Fri job working IT. This bar has gotten somewhat of a following. Drinks are priced well, relatively good music and dancing in the Highlands. And if you know the Highlands, there is no dancing in the Highlands. This is the only place. It is like the old Buckhead tried to revive itself in this bar. (GAG). Anyhoo, I had to park the car and run thru the rain to get into this place tonight. Not worth it. When I got inside it was packed. So packed that it was uncomfortable. I think if I had been drinking it would have been fine, but I wasn't so I was hot and miserable.
As I watched the crowd my gaze focused on the girls that were dancing slutty, only hot thru beer goggles girls. This of course made for great entertainment in my mind. Remember I am only there because of my friend. So I am watching, watching, watching. And laughing, laughing, laughing. Then the best part happened.
The Beyonce song "Put A Ring On It" begins to play. And this little bar goes nuts. (Gag x2) These girls are jumping up and down, trying to dance, be hot, etc. Not so much. One girl in particular took it to a new level. She knew the words and the dance from the video. And she was recreating this in the bar. Hips shaking, arms waving. You get the picture.
My concern of that day is that young ladies know this is not hot. Not appropriate. It is ridiculous. Don't recreate videos on the dance floor. Shake your ass all night long, but Beyonce you are not.
Here is the link to the AJC article about Sheree from the Real Housewives of Atlanta and her divorce.
So tacky and ridiculous.
My first thought was "No education? Go down to Georgia Perimeter like half the state did. Get your two year and MAYBE you can transfer to Georgia State."
And I remember going to that store Bella Azul. One time. So over priced, worst customer service ever and bad merchandise selection. Period.
Why in the hell does everyone want something for nothing?
I am just so sick of crap like this. Male or female. Go better yourself. Stop trying to be something you are not.
$113K a year via divorce settlement does not make you the elite of Atlanta.
Sorry to disappoint.
Everytime I get an email for an event and it says somewhere in it "attracting the Elite of Atlanta" I always delete the email.
1) Because that phrase is stupid and pretentious.
and
2) Because every time I hear that phrase all I can think about is the Real Housewives of Atlanta.
And I am neither 1 or 2. Nor am I a trainwreck.
Happy Tuesday!
On Saturday me and E3 went into downtown Atlanta to give out the sack lunches I made that morning. Each lunch included a cheese and bologna sandwich, a bag of chips and a Christmas cake from Little Debbie. We went down to Hurt Park which is across the street from Georgia State University. E3 had to stay in the car due to no parking.
I have to tell you that I have worked in soup kitchens, packed food for shut-ins and served dinner to parolees. I have handed out lunches before but not this amount. Nothing prepared me for this. I did not even get into the park. I was immediately swarmed with people when I stepped onto the sidewalk. Every lunch was gone in under 10 minutes. E3 said that as he watched people look in their sacks that they got big smiles when they pulled out the Christmas cakes.
What was heartbreaking was when I ran out of lunches. I should have brought 200 instead of 50.
I spent MAX $90 on the whole thing. It was time and money well spent.